As an experienced and reputable landscaping, irrigation and tree service in Milwaukie, OR, Otty's Landscape Construction LLC is proud to offer a comprehensive array of services that are meant to make your life easier—and make your outdoor property as healthy and attractive as possible. Here is a closer look at those services:

Landscape design & installations:
Give the exterior of your home or business the look you have always wanted it to have by hiring our team for inspired, precise landscape design and installation.

Irrigation design and installations:
Keep your outdoor property fresh and strong by having us install a state-of-the-art irrigation system.

Retaining walls:
Our experienced crew knows how to build and install retaining walls that are strong and made to last.

Erosion control:
Keep your property safe from the wear and damage that erosion can cause by investing in erosion control services from Otty's Landscape Construction LLC.

French drains:
When you hire us to install a French drain, we'll make sure that your outdoor property stays attractive and your indoor property stays free from mold or water damage.

Flagstone:
Give your paved outdoor property a more natural, elegant look with our high quality flagstone.

Walkways:
Send a welcoming message to visitors or potential customers by hiring Otty's Landscape Construction LLC to install a smooth, attractive walkway.

Tree trimming:
Keep your trees healthy, looking their very best and out of the way of people and cars by trusting our team with regular tree trimming.

Tree pruning and removal:
Finally, we are proud to offer high quality, affordably priced tree pruning and tree removal in Milwaukie, OR as well as stump removal.
Historic Pecan Tree in Gladstone
Otty's Landscape was contracted to take down a registered historic pecan tree in Gladstone that was over a house set to be demolished. The is set to be lifted by a crane and saved for a furniture company.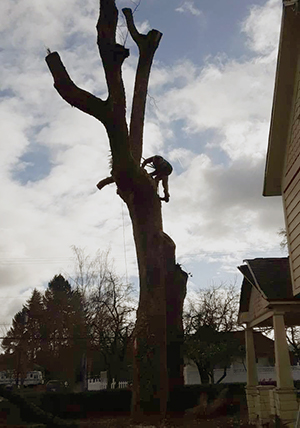 Call Otty's
For more information about our services and prices, please call Otty's Landscape Construction LLC at 503-380-4685.